As a business owner, one of the most critical objectives for you is to build trust with your customers.
Potential customers want to know that they are dealing with a reputable and reliable company that will come through in a timely and satisfactory manner. While getting customers to spend money initially is an excellent start for any business, the only way to get them to purchase from you again is by establishing a healthy relationship that is built on positive experiences. Here are three powerful ways to build trust between your company and potential customers.
Provide Help and Support
The best way to let your customers know their concerns are a top priority in your business is by developing a comprehensive customer service department that is accessible through multiple contact methods. This means that you want to provide support through phone, email, web forms, and online chat. You can use help desk software to manage your IT support needs to save you time and make things easier by utilizing a centralized interface.
Represent Products and Services Accurately
Once you've developed a reliable support system and it is running smoothly, you can prevent disappointment in your customers by making it a policy only to promise what you can consistently deliver. Doing this will also help you promote an impeccable brand reputation. Do you best to describe features accurately, avoiding the use of tricky fine print or hidden fees. You also want to clearly outline the terms of service, so that all your customers will know what they can expect from your company every time they do business with you.
Communication and Presentation are Paramount
The most critical steps that you can take to establish trust with your customers are to always be accessible to them and present your company with the utmost professionalism. Initial belief mainly stems from aesthetic appeal. However, ongoing trust in a company can only come from the great products that are offered and the customer service that is accompanied by the stellar support that you provide to each customer.
Conclusion
Once you've won your customers over with your initial offering, it is essential to building the trust that is needed to keep them as a customer for life. This will take time to do but can be accomplished with the right approach and commitment to putting your customers first.
Learn 5 Techniques To Persuade People To Buy From You In This Free Guide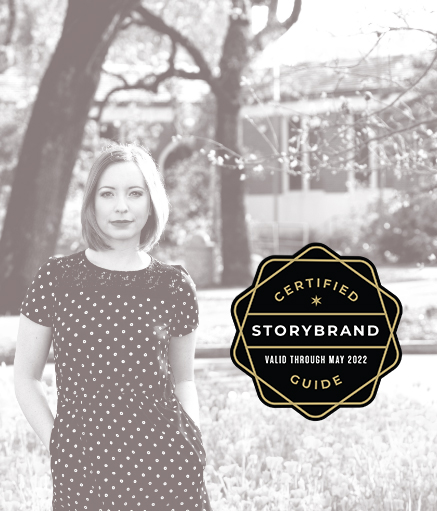 YOUR MARKETING GUIDE
Naomi Catalina has worked in roles such as Creative Director and Programming Director on projects for brands like Baskin Robbins, Whole Foods, Yum! Brands, and Pepsi. She has extensive marketing, creative, and technical knowledge which fuels a deep enthusiasm for brand development.
This experience, blended with her StoryBrand Guide Certification, helps businesses position themselves with a clear message and beautiful brand to create an engaging customer experience.
Book a consultation now to get started with your marketing, design, or website project.
BOOK A CONSULTATION